Emerging economies and international trade and investment law
---
Leïla CHOUKROUNE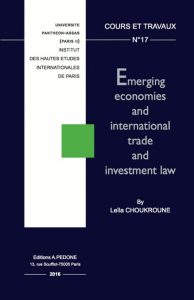 ---
Quatrième de couverture
What is economic emergence? How different are emerging economies from emerging markets and other groupings like the BRICS? Does law matter in their trajectories and, if so, why is the relation of these countries to international trade and investment law of particular importance to the understanding of the novel transformations and challenges faced by this fast changing and complex field of international law?
Based on a course taught at the IHEI and a large number of related researches and publications, this short book proposes to recompose the emerging countries patchwork through the study of a limited number of chosen States and a few of their recent positions and practices in the matter of international trade and investment law. These paths in a patchwork will show that these emerging countries' selective and negotiated participation in the World Trade Organisation (WTO) reveals a strategic will to preserve a normative autonomy to serve the needs of development (I), normative autonomy, which is also found in the approach of an international investment law that is regarded with a certain critical distance (II) and is illustrated in a variety of concrete trade and investment situations (III).
À propos de l'auteur
Leïla CHOUKROUNE is Director of the Centre for Social Sciences and Humanities (CSH), the French National Research Centre (CNRS) Unit on South Asia based in New Delhi and Maastricht University Law Faculty.
---
Dans la même collection...
---