Captured in War : Lawful Internment in Armed Conflict
---
Els Debuf, préface par Andrew Clapham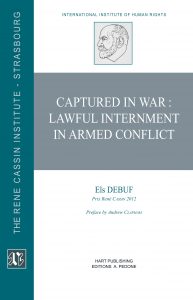 ---
Quatrième de couverture
Asecurity measure designed to neutralize threats from an enemy party, internment is common in warfare. In the context of internment operations in Afghanistan, Iraq, Guantanamo Bay and the Democratic Republic of the Congo, and of increasing international military intervention in internal conflicts more generally, the legal framework for internment has been widely criticised for being at best ambiguous and full of loopholes, at worst out-dated and inadequate.
In light of such criticism, this book examines the continued relevance and adequacy of the existing legal framework, identifies its shortcomings and proposes possible avenues to remedy them. It offers answers to fundamental questions such as who may be lawfully interned in armed conflict, on what legal basis, for what reasons and for how long. Starting from the premise that internment in armed conflict cannot be lawful under one branch of international law while at the same time unlawful under another, the book offers a fresh view of the interaction between the simultaneously applicable norms of international humanitarian and human rights law. Applying this approach to a comprehensive analysis of relevant normative texts, international and national case-law and actual battlefield practice of the 20th and 21st century, the book not only answers the questions it raises but also offers a novel perspective on related issues such as the personal scope of application of the Third and Fourth Geneva Conventions, the influence of international human rights law on the interpretation of international humanitarian law and whether States need to derogate from the first in order to rely on the latter.
Reaffirming the adequacy of the legal framework for internment in international armed conflict and occupation, the author nevertheless demonstrates the importance of interpreting that framework in conformity with subsequent developments in international law and actual practice. She lays bare significant challenges in non-international armed conflict, such as the lack of a legal basis to intern in international humanitarian law and the serious risks involved in solutions proposed so far to remedy that gap. Indeed, sole reliance on international human rights law, domestic law or, alternatively, on the rules on targeting are unsatisfactory and inappropriate.
Heeding calls for the clarification and modernization of the existing legal framework for internment in armed conflict, the author puts forward concrete proposals for normative developments that seek to reconcile both the practical realities of contemporary armed conflict and significant developments in international law that affirm liberty as one of the most fundamental rights owed to any human being.
À propos de l'auteur
Dr. Els DEBUF is a Legal Advisor at the International Committee of the Red Cross (ICRC). She wrote this book in her personal capacity and independently from her functions at ICRC. Opinions expressed are her own and do not necessarily reflect those the ICRC may hold on the subject matter.
---
Dans la même collection...
---